Informal Mentors: How to Find Them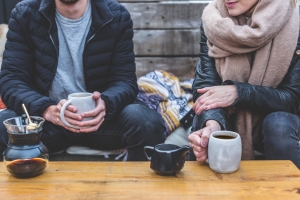 My experience having a mentor was one that I will absolutely never forget and cherish so much! For that reason, I hope that you continue reading today to find out exactly how YOU should go about finding informal mentors in your network, within your workplace, or even in an academic environment.
Finding Informal Mentors…
Use Your Network: The easiest way to meet new people and make those connections is through those that you already know! Whether this be a past professor, manager, coworker, family member, or friend, using your mutual connections creates a direct pathway towards your new "mentor." Something as simple as a quick email may lead to a long-lasting relationship. So, do your homework and search through the connections you've already built to begin identifying new companies, roles, and titles that interest you and that you'd like to learn more about!
Reach out for Coffee: The first and most important step in cultivating a mentorship is reaching out! Always remember that people love talking about themselves, their past, and their successes and would be more than happy to share those parts of their career with you. No matter who you are reaching out to, it is crucial to send an introductory email, text, or call explaining who you are and how your interests compliment there own. Especially if you are connecting with a professor or student, stop by their office hours or meet up for a few minutes after class!
Come Prepared: Just as you are benefiting from their information and guidance, make sure that they are benefiting from you as well. While this does not mean to bring gifts or other presents, we highly encourage you to do your homework before chatting. You should know about their background, interests (as simple as a LinkedIn search!), and current role before sitting down. That way, you can breeze over the general questions and get to the good stuff. By showing that you've done your homework, you are indirectly confirming your interest in their profession and appreciation of their time.
Stay Connected: Mentorships don't just happen overnight. In fact, the most valuable relationships take some time to cultivate until you can truly feel comfortable and confident in seeking complete, honest guidance. Keep this person up to date with your accomplishments, new roles, successes, and even challenges! You'd be surprised how much a quick phone call allows people to stay in touch through time.
Informal mentors come in all shapes and sizes. So, what are you waiting for? Go out and find one today!
Searching for a new position? Check out our open jobs list!
Be sure to avoid these easy-to-make mistakes while networking!
https://esquire-recruiting.com/wp-content/uploads/2019/09/adult-beverage-black-coffee-374592.jpg
1280
1920
Esquire Recruiting
https://esquire-recruiting.com/wp-content/uploads/2020/08/esquire-recruiting-logo-color-300x101.png
Esquire Recruiting
2019-10-03 16:08:19
2019-10-07 21:10:26
Informal Mentors: How to Find Them