My Summer Experience as an Intern
Hello everyone – I am so excited to announce that I will be returning to Esquire Recruiting as their Social Media and Marketing Intern (and also blog-creator) for the fall semester! For those of you who may not know me, my name is Hannah McDermott and I am an incoming junior at the University of Wisconsin-Madison. I am majoring in Business, specifically in Marketing and Risk Management, and for that reason had pursued my first internship in a corporate setting this summer. Keep reading to find out more about my experience…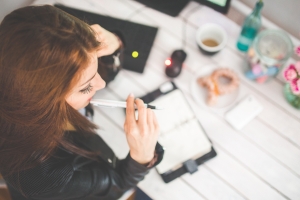 Life as an Intern…
So, is life as an intern in a corporate office all it's cracked up to be? My answer in short for you is… yes! I am elated to be able to recount the incredible experience I had during my internship in Risk Management for you all. In all honesty, walking into my first day came with nerves, jitters, and moments of intimidation. However, walking out on my last day, I felt rejoiced and confident both in my newfound knowledge gained from my responsibilities and also as a business professional. I thought the best way I could convey my experience for you was by taking note of some of my favorite components of this summer!
Intern Events: Working as one of about 150 interns hired came with some major perks. One to keep in mind when weighing your own interest in working for a large company is the advantage of coordinated events that many organizations put on for their intern groups. Due to the magnitude of our group, I was able to attend a Chicago boat cruise, networking events, an ice cream social, and even an off-campus volunteering event! I truly looked forward to these special days, as they not only helped me to feel immersed in the company's culture but amongst each of my intern peers who quickly became some of my great friends.
Mentorship Opportunities: Working around hundreds of other employees also posed the opportunity for one to pursue mentors, both formal and informal, across several, differing job functions. I'll combine mentorship with networking, as the two were super intertwined and each intern was not only supported but encouraged to explore each area of the company and identify our own interests outside of our immediate job functions. In doing so, I was able to identify certain areas of Marketing and job roles that I would love to pursue in the future!
Autonomy and Freedom: One thing that I hadn't expected of an internship prior to this summer was the true freedom I was granted in leading each project I was assigned, and achieving the goals I had set for myself during the first week of my summer. I was astonished and felt incredibly valued in the idea that even at such a large organization, my thoughts and actions were heard at such a high level; I was truly treated as a regular full-time member of our team.
Keep tuning in throughout this week and month to hear more about what I loved about my summer, what I would have changed, and what types of thoughts and ideas to look out for as you start applying to your next internship! Thanks for listening 🙂
https://esquire-recruiting.com/wp-content/uploads/2019/09/daydreaming-desk-hair-6384-1.jpg
1280
1920
Esquire Recruiting
https://esquire-recruiting.com/wp-content/uploads/2020/08/esquire-recruiting-logo-color-300x101.png
Esquire Recruiting
2019-09-02 16:55:07
2019-10-07 21:07:19
My Summer Experience as an Intern