Recommendation Letters: How To Guide
Recommendation letters aren't usually necessary when applying for a job, but it will sure help your chances of landing an interview or making a great impression. They provide another information outlet for the interviewer or hiring manager. It helps them see you, the candidate, through someone else's eyes. Follow the tips below regarding recommendation letters!
Who To Ask
When reaching out to people in your network about writing you a recommendation letter, it's important that you're asking the right people. You will want to ask someone who is going to give you a strong endorsement and that you have/had a good working relationship with. This might be your former boss, a fellow colleague, vendors, business acquaintances, etc. Make sure it is someone that can attest to your abilities and that has worked with you or beside you. This person is going to be writing all about you including your strengths, qualifications, and why they think you would be a good employee.
How to Ask
Asking for a letter of recommendation can feel awkward to some people. Make sure you communicate clearly what you need and ask if they feel like they know you well enough to write the letter. That way, if someone wants to say no, they will be able to say they aren't comfortable and it will be an easy out. Don't put pressure on anyone or make them feel like they have to write you a recommendation letter. If they say yes, provide your updated resume and your qualifications so the writer has something to reference when they are writing your letter.
What to Include
In the recommendation letter, make sure you make it clear that you need certain criteria. The letter should have the following things: dates of employment, the position held, the company name, job responsibilities, qualifications, strengths and abilities, and contact information. The writer can add their own personal touch and discuss their own positive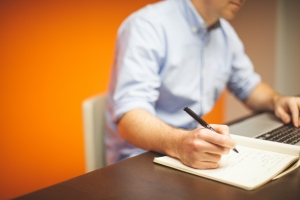 feedback as well. If you have those 7 things in the letter, you are ready to go.
Don't Forget to Say Thank You
Just like following up interviews with a thank you note, the same goes for letters of recommendation. Extend a thank you note/email/phone call to the person who wrote you a recommendation letter. It shows that you appreciate them for their time and energy they put into the letter and it makes a big impression.
A letter of recommendation is a great way to vouch for your job knowledge, skills, and overall performance. It can give the hiring manager insight into who you are and how you work. Keep in mind that recommendation letters aren't everything- the most important part of the job search process is to have a great resume and cover letter!
Searching for a new position? Check out our open jobs list!
Are you worried that your cover letter isn't up to par? Learn how to write a great one here!
https://esquire-recruiting.com/wp-content/uploads/2019/07/businessman-coder-desk-7059.jpg
1280
1920
Esquire Recruiting
https://esquire-recruiting.com/wp-content/uploads/2020/08/esquire-recruiting-logo-color-300x101.png
Esquire Recruiting
2019-07-25 16:10:26
2019-07-25 16:10:26
Recommendation Letters: How To Guide