Advantages of Moving Out Post-Graduation
The transition from college life to post-graduation life can be a stressful time for students. There are plenty of advantages to moving out that can help ease that transition. Keep reading for the benefits of living on your own after graduation and how you can make the most of it!
Financial Freedom
Money: Moving out post-graduation is a great opportunity to secure your financial freedom, but it is also a big responsibility. You are now solely in control of your finances and managing your money. You will be paying your own bills, buying your own groceries, and maybe even paying student loans. Take this time to set up a budget for your expenses so you can live within your means!
Independence
Self Discipline: Having your own independence is something you experience in college. Moving out after graduation will help you continue to achieve that independence. Living on your own can lead to a lot of self-discovery and decision making. Decision making can be a source of stress, but making the final decisions in your life is part of finding your independence. Holding yourself accountable when it comes to everyday life will be a learning process. Set goals, create healthy habits, and stay organized. These tricks will help you maintain your independence.
Community
Choosing your community: A great benefit of moving out is that you can choose where you want to live! There are many aspects when deciding on a place to live.

City or Town Size: Finding the right fit is crucial to a smooth and happy transition. Whether you want to live in a big city or rural town, it's important to identify which one works best for your lifestyle.
Commute Time and Public Transportation: This is a necessary factor to consider when choosing the community you want to live in. Having accessible public transportation and a shorter commute to work will provide less stress.
Roommates: Living with roommates after graduation is an option! It can help save money on your rent and make the experience more fun. Selecting your roommates is a big choice because you want to make sure they are compatible.
Moving out after graduation is a fun and beneficial experience. Moving out may not work for everyone, so consider your options before you make a choice. Hopefully, you will be able to take these advantages of moving out and put them to use!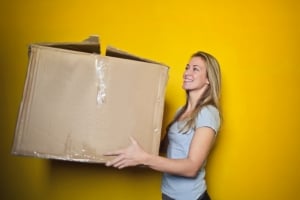 Searching for a new position? Check out our open jobs list here!
Think living at home is a better option? Find out the benefits of moving home post-graduation here!
https://esquire-recruiting.com/wp-content/uploads/2019/05/beautiful-beauty-blond-761999.jpg
1000
1500
Esquire Recruiting
https://esquire-recruiting.com/wp-content/uploads/2020/08/esquire-recruiting-logo-color-300x101.png
Esquire Recruiting
2019-05-20 18:34:35
2019-05-20 18:34:35
Advantages of Moving Out Post-Graduation