Identifying and Utilizing Your Strengths and Weaknesses
One of the most important and differentiating aspects of any candidate is their ability to recognize their own strengths and weaknesses. Someone who understands where they excel and, in turn, what aspects they could improve about themselves, is someone who will be an efficient and capable employee and an asset to any company. For that reason, it's time you figure out your own strengths and weaknesses! Read more about how to identify them here…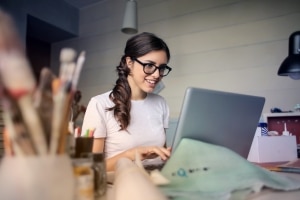 Personality Tests:
Generally a free and accessible resource, personality tests continue to gain popularity and value in the professional workplace! There are dozens of personality tests available on the internet for you to take that will help you identify your personality type, and therefore your strengths and weaknesses. This is a vastly important test to take before applying to jobs and even identifying which type of career will suit you best. Check out some of the most useful personality tests provided by Forbes here!
Reach Out:
When searching for your strengths and weaknesses, reach out to those who you spend the most time with. Whether this includes a family member, coworker, friend, or partner, these people are nearly guaranteed to know more about you than anyone else. Ask them what they believe your strengths are and where they think you could improve. After all, these people spend the most time with you and are able to see you shine in all aspects of life (when you're having fun, working, relaxing, etc.). This is another free resource for you, so use it!
Activities and Education:
Another way to identify where you excel and, in contrast, where you may struggle is by analyzing your performance in school and in activities. In which subject have you found true enjoyment, and which courses did you dread going to each day? In turn, through which assignments did you find success, improvement, or growth? If there are areas of education where you have encountered improvement, growth, or naturally excel at, identify them as your strengths. This is another way to help you understand which careers would match most closely with your personality and performance. Additionally, if you are a naturally gifted athlete, or excel in another activity, think about the value of this interest to you in your daily life. Do you want to incorporate this pursuit into your future career?
Use It!
The awareness you've gained of your strengths and weaknesses is only as useful as you make it. Include experiences that showcase your strengths on your resume, and make sure to incorporate them into your interview conversation. Showcase that you understand yourself, your passions, and your desires in order to present yourself as the best candidate for any job. Additionally, don't be afraid to acknowledge your weaknesses! We all have them! Be transparent with your interviewer, explain the exact, specific steps you are taking to improve, and you are sure to appear motivated and prepared.
Hopefully, you will use these strategies and ultimately figure out all of your strengths and weaknesses. Remember, all people excel and struggle in various areas, it's normal. Good luck!
Need some help? Read our blog to find out what recruiters are looking for!
Understand your attributes but struggling to figure out what you want to do in life? Find out here!
Searching for a new position? Check out our open jobs list!
https://esquire-recruiting.com/wp-content/uploads/2018/08/adult-beautiful-blur-935756.jpg
1000
1500
Esquire Recruiting
https://esquire-recruiting.com/wp-content/uploads/2020/08/esquire-recruiting-logo-color-300x101.png
Esquire Recruiting
2018-08-16 15:43:25
2018-08-16 16:26:41
Identifying and Utilizing Your Strengths and Weaknesses