Qualities to Look for in Cities
There are a truly endless number of cities to look into as you begin planning for your future career and lifestyle post-graduation. Today, we're here to open your eyes to some of the highlights that will impact your life depending on the city you move to! Keep reading to find them out and assess your own likes and dislikes.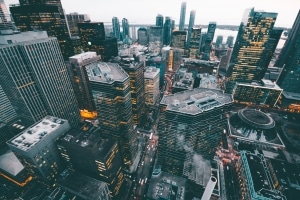 Career Expansion Opportunities: Before you accept a position in a new city, it is important to look into their competitors, and general opportunities geared towards your career path in a given city. If you set yourself up somewhere where there are several opportunities to pursues different companies and move up the "totem pole", then you will avoid ever feeling stuck where you are!
General Costs: Depending on which city you pursue a new life in, you will incur different levels of daily taxes and expenses. It is important to be able to evaluate how your desired lifestyle will align with these costs. Envisioning daily or weekly costs, such as groceries, gas or utilities will allow you to decide where you best fit.
Climate: As a mid-west native, I can attest to how much of an impact weather has on your day-to-day life! It is crucial to be conscious of how often you may be able to be outside, in light clothing, bundled up, commute by foot, etc. If you have a preference for warm or cold weather, that will help you to narrow down your list right away!
Night Life and Culture: Although your job opportunity may be a driving factor of the cities you are looking into, your future social life as a result of where you live will prove to be a large factor in your happiness and satisfaction! So, looking into the volume of restaurants, activities, bars, coffee shops, movie theaters, or other social spots will help you to envision the life you will be able to create for yourself surrounded by those in the city you choose.
Taxes: Different cities, and more so different states and areas of the United States have different levels of income, state, and sales taxes that will make a large dent in your income. It is important to consider this when deciding where to settle down for your first career, as the lifestyle you hope to live should be able to accommodate your tax payments! Did you know… "Alaska, Delaware, Montana, New Hampshire, and Oregon don't collect sales tax for retail sales and some other services?" (thebalance.com).
Additional Aspects to Evaluate: Real estate value, safety/crime rates, education systems, transportation options, city size, healthcare, accessible airports, distance from family/friends, and distance from your job location.
Each city you view will present its own unique list of advantages, disadvantages, and your personal likes or dislikes. Remembering that your living circumstance is often only temporary should help relax some of the weight on your shoulders in making this large decision. So, sit back, use our list, and you'll find your perfect match in no time!
Searching for a new position? Check out our open jobs list!
Recent graduate? Find out how to find a job after college here!
https://esquire-recruiting.com/wp-content/uploads/2019/05/aerial-architectural-design-architecture-373912.jpg
1000
1500
Esquire Recruiting
https://esquire-recruiting.com/wp-content/uploads/2020/08/esquire-recruiting-logo-color-300x101.png
Esquire Recruiting
2019-05-14 02:31:05
2019-05-14 15:53:18
Qualities to Look for in Cities