5 Reasons Recruiters Toss Your Resume Out
Recruiters at Esquire Recruiting, LLC and recruiters everywhere look at many resumes each day. They can spot the difference between the good and the bad. Today we are going to discuss the top 5 reasons that recruiters will pass your resume up or even throw it in the no pile. Continue reading below to find out why!
It's way too long! Resumes are generally 1 page, sometimes 2. When recruiters receive resumes that are 4 pages or 6 pages, they simply cannot read through it without getting bored or annoyed. Keep it short and to the point.
It's overstyled! Resumes should be clean and simple, for the most part. If your resume has multiple different fonts, includes broken hyperlinks, uses buzzwords or overly formal speech, or is too long-winded- then you need to fix it up! Those four are examples of some of the biggest mistakes you can make on a resume. Style issues like those make it difficult to read the resume, which is exactly what you don't want happening.
It doesn't include keywords! Make it easy to connect the dots! Include words or short phrases that relate to the particular job requirements you are applying for. This will help catch the hiring managers eye when they are looking over your resume. Recruiters will also benefit from this because they are looking over hundreds of resumes a day, and the keywords will help them narrow their search.
It's not ordered correctly! The order of everything on your resume matters. It needs to be in the order of relevance or impact. You don't want to add your current job in at the bottom, everything that is the most current should be placed at the top. Make sure your resume highlights your accomplishments and relevant information at the top.
It doesn't tell a story! We talked about telling your career story in last weeks blog regarding job interviews. The same goes for your resume! Tell your story through the words on the paper. When a recruiter looks at your resume, they need to be able to tell what your career story is and where you are hoping to go in your career.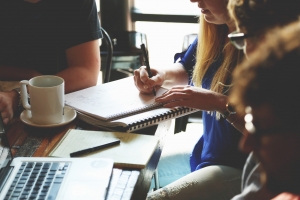 Resumes are very tricky! A resume is something you want to take your time on completing because it is the first thing a hiring manager and recruiter will see. It is basically your first impression that you are giving. Follow the dos and don'ts above to help make sure your resumes do not end up in the trash pile!
Missed last weeks blog? Catch up here!
Searching for a new position? Submit your resume to any of our open jobs!
Read some resume tips from our very own recruiters here!
https://esquire-recruiting.com/wp-content/uploads/2019/08/advice-advise-advisor-7096.jpg
1280
1920
Esquire Recruiting
https://esquire-recruiting.com/wp-content/uploads/2020/08/esquire-recruiting-logo-color-300x101.png
Esquire Recruiting
2019-08-27 15:03:15
2019-08-27 15:07:28
5 Reasons Recruiters Toss Your Resume Out