As business professionals, we are constantly reminded of how important it is to always network! However, once you're situated within an organization, it is easy to forget about this crucial component of your career. For that reason, we're here to teach you how to go about internal networking! Keep reading to find out our best tips and tricks…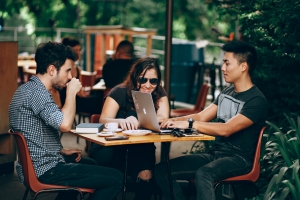 Building Your Network Within a Company…
It is SO important to have an internal network! Knowing people throughout different areas and teams will provide you with a plethora of resources you may not have even known you needed! As an intern this past summer, I was tasked with generating a complex excel formula to be utilized on our Risk and Mitigation excel sheet. Because I was friendly with a few analytics interns, I had people I could immediately reach out to for help! While I hadn't previously predicted
I would interact with analytics, I was super thankful that I had an internal network that day.
Ask a Coworker to Coffee: As we recently discussed, coffee chats are today's driving fuel of coworker relationships. We encourage you to set a goal for these conversations (one per month or biweekly?) and put yourself out there by initiating relationships with employees of all different titles. Remember, people love to talk about themselves and what they do! Scheduling a quick 30-minute chat every so often with an employee who upholds a completely different skill set than your own will allow you to expand your knowledge and network.
Join an Employee Resource Group: There is no better way to meet and develop personal relationships with coworkers than by uniting under a shared belief or attribute! Even a group as simple as young professionals will provide you with a plethora of resources in the form of other employees who already share interests with you. We encourage you not only to join groups that align with your identity but to become involved in areas you might not know anything about. Having a comprehensive understanding and relationship with all of the different identities in your office will help you cultivate into a well-rounded, dependable, and well-liked coworker.
Listen! Although this one may sound obvious, always make sure to actively listen and learn about all of the different employees you interact with. You never know which tidbit of information you might pick up. Whether that be children, hobbies, sports interests, exercise patterns, personality traits, general beliefs, etc., genuinely listening and engaging in conversations with others will provide you with bits of knowledge and connections to build relationships on.
Attend Events: Our final tip to you is to attend all events that are organized for your benefit! Whether this be an employee lunch, team outing, happy hour, etc., participating in these events, especially outside of office hours, will place you in a casual and enjoyable environment to meet and network with others.
Searching for a new position? Check out our open jobs list!
https://esquire-recruiting.com/wp-content/uploads/2019/12/group-of-friends-hanging-out-933964-scaled.jpg
1280
1920
Esquire Recruiting
https://esquire-recruiting.com/wp-content/uploads/2020/08/esquire-recruiting-logo-color-300x101.png
Esquire Recruiting
2019-12-12 21:55:54
2019-12-12 21:55:54
Internal Networking