Top Tips for Being a Better Team Player
In any job, you are most likely working with or beside other people. Work teams are common in organizations and they help functions to run effectively. Continue reading below for some tips on how to be a better team player at work!
Teamwork Makes the Dream Work
Let Others Help You: Letting your coworkers help you with tasks opens the door for more communication. It takes some of the weight off of your shoulders and makes the task at hand way easier to accomplish. Your coworkers will see you as approachable and great to collaborate with.
Listen Well: This one is important when you are on a team. You need to be an active listener when your coworkers are speaking. This will make them feel heard and valuable. And they will probably return the favor when you are speaking too.
Lead With Good Intentions: You can accomplish this by leading authentically. Your team needs to be cohesive in order to collaborate, and your intention should be to achieve that cohesion. Utilize everyone on your team and engage with them. This will help strengthen everyone's relationships on the team.
Share Your Gifts: Bring your A-game to the team. Use your best qualities and strengths to help your team advance and get your projects done. There may be tasks that take you minutes to complete, but for someone else, it might take the whole day. Your team will appreciate you for giving it your all and saving them the hassle of spending too much time on a task.
Volunteer to Do the Dirty Work: Team members will like you if you volunteer to do the hard tasks. This doesn't mean you need to volunteer every time when a difficult task is presented, don't let yourself get taken advantage of. With that being said, if you're the only person who never takes on the dirty work, your teammates might start to build up some animosity towards you. Find a healthy balance and rotation.
Spread Positivity: Be the positive light in your group when things get hard. When a group is under pressure to get something done, tensions can get really high. Take off some of the pressure by keeping things light. If someone makes a mistake, don't dwell and judge them, acknowledge it and move on.
Observe Others Work Styles: This is an important part of being a cohesive team. You might notice that your teammate hates emailing and prefers phone calls. Or that someone would rather have meetings in the morning than afternoons. Take notice of how your teammates work best, and be flexible towards them.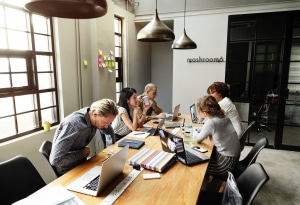 These are just a few ways you can be a great team player. Collaborating with your team will help your job run smoother and make for a better work experience. Be open to feedback from teammates, don't gossip, and don't judge. If you give your best work and the best attitude to your team, you will become a better team player.
Read here about successful qualities a team should have!
Searching for a new position? Read through our open jobs!
https://esquire-recruiting.com/wp-content/uploads/2019/08/brainstorming-collaborate-collaboration-1204649-1.jpg
1313
1920
Esquire Recruiting
https://esquire-recruiting.com/wp-content/uploads/2020/08/esquire-recruiting-logo-color-300x101.png
Esquire Recruiting
2019-08-08 15:38:58
2019-08-08 15:40:02
Top Tips for Being a Better Team Player